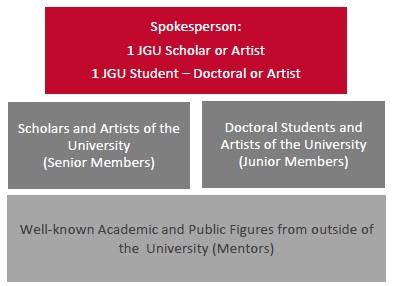 The Gutenberg Academy consists of three different groups of members:
senior members: the most renowned scholars and artists of the University (maximum 25)
junior members: excellent doctoral students and young artists of the University (maximum 25)
well-known academic and public figures (mentors)
The Gutenberg Academy is directed by two speakers and both the senior and junior members groups supply one spokesperson. Senior members take on the role of internal mentors for junior members. Mentors and mentees must be from different disciplines. Internal mentors are available as the mentee's personal contact person. The goal of this personal contact is to provide the opportunity to strengthen the scientific interest and curiosity of junior members and to allow them to profit from the experience and knowledge of senior members. External mentoring, on the other hand, promotes the junior member in areas outside of the University.